HAWAIIAN BLESSINGS
Blessings are available by Rev. Alalani on Maui and throughout the islands
Aloha!

Blessings are a sacred tradition in Hawaiian protocol. The purpose of Blessing Ceremonies is to invite the goodness from the hightest for Aloha, happiness, harmony, health, peace, protection & abundance. As well to say Mahalo (thank you). Kahu Alalani has done 1000's of House Blessings and blessings for many businesses, events and celebrities
HO'OPOMAIKA'I KA HALE/LUMI
House Blessings, Condo
HO'OULU KE'ENA
Business, Office, Studio
HO'OLA'A 'ÄINA
Ground Breaking & Land Blessings ·
Every Blessing is unique and includes Pule Ho'omaka (opening prayer) & Pule Ho'oku'u (closing prayer). For the land, structure, contents, animals and all those that are in attendance.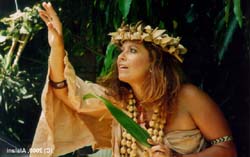 IN ADDITION
Renovations ·
Grand Openings ·
Special Events ·
Conventions ·
Tour groups ·
Weddings ·
Sporting events ·
Movie sets ·
Vehicles of the ocean, land & air ·
Babtisms · Funerals ·
All of life... People, places, things and events are enhanced by being Blessed, for energy permeates all dimensions. Light, prayer, and Hawaiian protocol clears, transforms & blesses for goodness, growth, success and protection.
KAHU (Reverend) ALALANI HILL HAS PERFORMED 100'S OF BLESSINGS WHICH INCLUDE BLESSINGS FOR THE FOLLOWING:
HOTELS,MOTELS,MALLS: Grounds - Events and Conventions at the Grand Wailea - Aston/Outrigger - Kealani - Maui Oceanfront Inn - Maui Lu - Maui Prince - Renaissance Wailea and the Westin - Alexander & Baldwins Maui Mall-Executive offices management team CB Richard Ellis - Blessings of land and workers to begin the foundation of the Starwood Westin Hotel Ka'anapali ~ Hawaiian dredging

RESTAURANTS: The Monkey Pod - Genki Sushi ~ Kahului - Hot Dog on a Stick - Mala Wailea at the Marriot Hotel - Dog and Duck Irish Pub - Horhitos Mexican Cantina - Vietnamese Restaurant Kihei - Steel Horse Saloon. - Roy's Kihei - Outback Kihei - Manana Garage,Pacific cafe - Cyberbean Internet Café - Jaws Mexican Restaurant - Squeeky's - Dicks Place - Freds Mexican Cafe in Kihei Zacks Deli at the Mana Kai in Wailea

MAUI COUNTY: 2011, 2012, and 2013 Mayor's Small Business Awards, Mayor James Kimo Apana or Maui - Parks and Rec. Permit office - War Memorial Gym - Wailea Fire Station from ground breaking to completion - All Wailea fire trucks and water truck - Blessing of 2004 Helicopter and air Ambulance Air Med One "Haliola" - 24 hour Kula ambulance Kahului 11.5 Million dollar blower water blower treatment plant with Mayor Alan Arakawa - ground breaking and structure blessings - Piikea avenue bike path ground breaking-planned North-South Kihei collector road system with Mayor Arakawa Blessing of 2004 Helicopter and air Ambulance Air Med One "Haliola" - 24 hour Kula ambulance - Centennial Gala 100 year birthday of Maui County on the Pride of Aloha Ship - U.S. Coast Gaurd - Motor Life Boat 47313

STORES: Fifi and Bootsies ~ Shops at Wailea - Chinese New Year @ Topaz Jewelers - Sandal Tree Shoe Store at Shops of Wailea - Home Depot - Hawaii Liquor - Cost Less Imports - Massimo Rebecchi - Enchantress,Hawaii Ocean Sports and Mattress warehouse - Kihei Kalama Villages self storage - K.K.V. Blessing/clearing of building - Lulu's - Art gallery and Tattoo shop - Fast Kine Tanning - BJ's Beauty Salon - Versus at Azeka Mall

GALLERIES: Gallery 505 Front Street Lahaina - Dolphin galleries ['Kihei - Front street - Ka'anapali and the Jewelry store at Whalers village.'] Ki'i and Passman at The shops of Wailea - Thomas Kinkade - The Masters - Bottega Veneta - as well Art Openings - Holiday art showings - Hotel Murals - Art pieces and for Artists

MISC: Waikamoi Flume Replacements Project - 2 Blessings for Global Specialty Contractor's - Kamali'i Elementary, "Ho'olaulea" - Kihei Charter High School Graduation 2007 - Maui Police Dept "Positive Outreach Intervention Offices and Counselors" - Maui Meadows "Ohana Park" - Holiday Epiphany 12th night Christmas Party - Heaiau at Makena Estates - Ma'alaea Kai - Patty Turner Building - "The Roller Con" Maui Roller Girls - boys-n-girls club - Prayed Regina Saxton into Heaven - Hogs boat trip - Toys for Tots SBU Maui Chapter - Maui Toy run ~ Street Bikers United - Maui Electric - Hawaii Electric - Queen Ka'ahumanu Center additions and stores - Women's Shelter - Lahaina civic center solor panel with Mayor Arakawa - Church of Religious Science - Aloha Metropolitan Community Church - Pacific Primate Sanctuary & Maui Contractors Assoc. Home show 3 years - Rotary - Landmark properties - For Politicians and political fund raisers - 4th of July - Maui Wedding Association - Women's Democratic luncheon - Maui Pow Wow - Films - Maui Music Conservatory TV shows,stages - cast - crew and sets etc. for different shows and films. West Maui Advocacy Center for Women helping Women and the West Maui Domestic violence task force - Kalakupua playground and the completion of the Marine Division Park in Haiku - Launch of Hammer magazine RSA improvments for road around Kahului airport road with Watts Constuctors

EVENTS: Kihei Fourth Friday - Governor Lingle Republican Convention - Hawaiian Film Festival "Intimate Conversation with Hollywood Film Professionals" - Maui Electric Pacific Coast Electrical ~ Grand Wailea - Maui Media Index ~ Hawaii Film Office V.I.P. Film Event - Ruth Chris Steak House for Maui Wedding Association - Martin Luther King "I have a Dream" concert ~ Lahaina - Country Ranch "Kiara Hoku",Martin Luther King day at County building and 2008 March - Chinese New Year 2008 at Topaz Jewelers - Maui Bridal Fair 2008 - Maui School of Therapeutic Massage Class of 2008 - International Peace Poem Celebration - Dr. Martin Luther King Peace Poetry Awards - Kamali'i Elementary School Ho'olaule'a - Maui Film Festival at Baccarat Resort - Dr. Martin Luther King Day March and Inauguration Ceremony for Barack Obama - Mc Donalds Corporation annual board meeting and gala blessing at Ritz Carlton - Dr. Martin Luther King Peace Poetry Awards - Regina Cruise Ship Gala - Maui Film Festival pre-film - Henry Allen concert and documentary - Henry Allen Jazz on the Beach - Maui Bridal expo - Tahiti Fete Photo Shoot - Xterra awards banquet - Xterra World Championship Triathlon - Knight of Champions XTerra - Mapuana's Halau Hula Malani O Kepehe Christmas party - MWA Holiday Parties - Events Held at the Maui Arts and Cultural center - Maui Mall - Maui Ocean Center - Kahului amphitheater - Iao Theater - Lahaina Civic Center - YMCA - Kihei Community Center and Queen Ka'ahumanu Center - arranged the The Blitz Maui Visitor Bureau - And participated in the opening Blessing for the Hawaii Convention Bureau - Lei Blessing and welcoming for Gov. Lingle and KAOI radio - Ground breaking for Maui Memorial Center employee parking lot. Executive cup (Golf) awards Dinner and blessing of awards


SPORTS: Kings Trail Triathlon (Sang National Anthem) - XTerra ~ Night of Champions Dinner - XTerra World Triathlon at Makena ~ Sang National Anthem - XTerra Awards Banquet - PAN- Pacific Open Water Swim Race ~ 10k Survivor - Kings Trail Triathlon 2008. Xterra Triathlon all blessings 2009 - all blessings 2010 - 2011 Blessed people on the Beach and Sang Star-Spangled Banner - Xterra Triathlon for 8 years - Xterra awards dinner and Blessing of awards - Blessing of Xterra welcoming dinner - Xterra triathlon and Awards banquet 1997 - 98 - 99 - 2000 - 01 - 02 - 03 - 04 - 05. Oceanfest - Kings Trail Triathlon 2002,03,04,05 years Makena - 5 & 10K Runs - Junior Olympics - Ka'anapali Klassic swim race 2004 - Ka'anapali Classic race and Lahaina swim club 05. Seafest - Surfing & Windsurfing competitions - Canoe races - Boxing events - Soccer - Football. 2005 Long course Hawaii State swimming championships

CAUSES: Martin Luther King March Yearly on Maui. Maui Street Bikers United Maui toy ride for Toys for Tots - Hansen's annual toy drive. Veteran's Day 2005 VFW Sang National Anthem - West Maui Advocacy Center for Women helping Women and the West Maui Domestic violence task force - American Cancer Society "Relay for Life" War Memorial Stadium Blessing and Sang National Anthem - Kanaka Hekili Fundraiser - Save Makena Concert on the Beach - For Breast Cancer "Swim For Your Heart" - Whale day blessing for Kihei group - Joey Reynolds Radio Show at KAOI 2008 - Illinois University Graduation Nurses - Senator Roz Baker Re-Election Fund Raiser - Red Cross - Big Brothers - Cancer society - Women helping women / Domestic Violence - Aids foundation - Gay pride week - G.P. womens luncheon at Jaws - Centennial Gala 2005 blessing and singing National Anthem - Veterens Day 2005 VFW Sang National Anthem

HEALTH: Maui Memorial Hospital ~ Molokini II Psych Ward - Healthy Hawaii Expo - Maui Community College Graduation for Nurses PN Nurse Program - Maui Memorial Hospital dedication of wall glass mural - Maui Memorial Hospital Extension of Emergency Dept. - Maui Memorial Hospital Cat Scan Machine - MMMC Emergency Department Ground breaking - Maui School of Therapeutic Massage Graduation 2007, - Maui School of Therapeutic Massage 2008 - Pacific Health Ministry Remodeled Hospital Chapel at MMMC - Na Hoaloha awards ceremony and luncheon for volunteers and caregivers at Kanoa Senior Center (Yearly) - Maui Diagnostic imaging digital mammography - Dr. Randall Hill's Kihei Clinic and Chiro Center - Healthy Hawaii Expo 04 - Physical Therapy for Women - Jaws~Maui pride day brunch - Guns and Hoses Fundraiser for fire fighter Charlie Awada - Healthy Hawaii Expo at Maui Mall 05 - Nurse Finders Wailuku - Maui School of therapeutic massage - Maui Memorial Medical Center 46 million expansion Phase 11 Blessings with Gov. Lingle - Kahului tower - SurgiCenter) Kahoolawe South - ICU Lanai South - Molokai South. Level A Kawaiola lobby

HOUSING: Maui Banyan Resort Renovation - Papakea Resort - Kihei Kameolu Nalu Condos - Ho'o Lei Development with Quil Group - Atlantic Investors - Blessing with Kimokeo across from Star Market - 3rd Phase Model Homes Kehalani Stanford Carr Development - Wailea Beach Villa ~ Valerie Interior Design - West Maui Breakers - CSI Development - Makena Estates /Na Hale O Makena - CSI offices - CSI blessings Big Island - Maryl Pacific/Summit at Ka'anapali (Phase),Wailea Beach Villa's Ground breaking - Stanford Carr development Olena - Kahalani gardens - Maunaleo - Ground breaking for Kanani Wailea. Ho'olei pre blessings - then offical gound breaking across from Grand Wailea Resort. Wailea Group Papali in Wailea - Stanford Carr offices and compounds - ground breaking for Cottages at Kahalani Development

T.V. Appearances & Blessings: Maui Media Index ~ Hawaii Film Office V.I.P. Film Event - Reality TV show crew and set - Wedding of a Lifetime TV show wedding blessing - Strange Universe NBC - The amazing race CBS - Best of both worlds A&E - The Discovery Channel - N.O.W. - London T.V. on Kahuna - Strange universe NBC - London Documenty Hawaiian Healers - Good morning America - Regis and Kathy - Welcoming chant Maui Film Festival 2005 - Celestial Cinema

IN ADDITION: 100's of Homes - Businesses - Occasions - Fund Raisers - Vehicle's of the Land - Ocean & Air - Groups/tours - V.I.P. Recognition - People - Animals - Stables - Clearing of Land - Homes and Businesses. Blessing have also been provided for Weddings - Honeymooners - commitment - Funerals - Baptisms - Healing sessions - Clearing of bad Spirits - Exorcism. As well as Spiritual counseling and personal blessings. Also available

BUSINESSES: ACE Hardware ~ Kihei - ABC Store Kihei - Van's Beauty Salon ~ Kahului - Cartridge World - Interior Design Solutions - Hot Dog on a Stick - Van's Nail Shop - Topaz Jewelry Store ~ Gem Fest - Topaz Jewelers Dolphin plaza - Kihei Pet Supply Company - Chico's clothing store Shops at Wailea - White House Black Market Clothing ~ Shops of Wailea - Baccarat Wailea Sales Offices with Wailea Group - McDonald's Dairy Rd. Kahului - McDonalds Lahaina - Stanford Carr Development - Ho'olei Maui Luxury Villas Grand Blessing - entire complex - Valley Isle Disposal - Kolani Distillers (rum) - Sonny Vicks's Paving (offices - base yard - new 05 truck - tanks and employee) - AA Trucking (new 05 truck)


Ioane 3:16
No ka mea, ua aloha nui mai ke Akua i ko ke ao nei, nolaila, ua haawi mai oia i kana Keiki hiwahiwa, i ole e make ka mea manaoio ia ia aka e loaa ia ia ke ola mau loa.
In Loving memory of my Kupuna The Blessed Kahu Kawika Ka'alakea